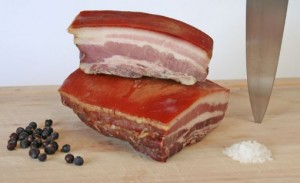 Ever wondered how to get that Broadview pork belly into delicious bacon? Below is a great home cure recipe I saw demonstrated at a cooking class in New York. Its definitely intimidating to read, but surprisingly easy once you try it and well worth the effort.
Courtesy of Executive Chef Matthew Weingarten of Inside Park at St. Barts in New York.
Most commercial bacon contains saltpeter or nitrates to help preserve the meat as well as lend the finished product the characteristic and eye-appealing pink hue. For the home cook and those trying to watch their nitrate intake, I have found that celery salt works as a wonderful substitute as it contains naturally occurring nitrates at a safe and controllable volume.
Makes a 2.5 to 3 pound slab of bacon
3 Cups kosher salt
3 Cups brown sugar
1/2 Cup celery salt
1/4 Cup cracked black pepper
2 Tablespoons allspice berries, cracked
2 Tablespoons cloves, cracked
1/4 Cup chopped fresh rosemary
6 Cloves garlic, minced
3 Pound slab pork belly, skin on
Combine the salt, sugar, spices, rosemary and garlic. Rub the pork belly thoroughly with the mixture, and place in a large sealable plastic bag removing all air. Place on a large plate or roasting dish in the refrigerator. Liquid will draw out of the meat and fill the bag, flip the belly every 2 days for 8 days. On the 9th day, take the belly out of the bag and rinse off the excess cure under running water. Place the belly on a rack and put it back in the fridge for 1 more day to dry out slightly and form the pellicle (a thin skin).
Prepare a smoker with your choice of wood and smoke at approximately 180 degrees for 3 hours, or until the internal temperature reads 155 degrees on a meat thermometer. Alternatively, you can smoke this pork belly in a roasting pan over some wood chips set in a 225 degree oven.
Eat immediately or chill down to enjoy another day. Keep in the refrigerator for up to a month.