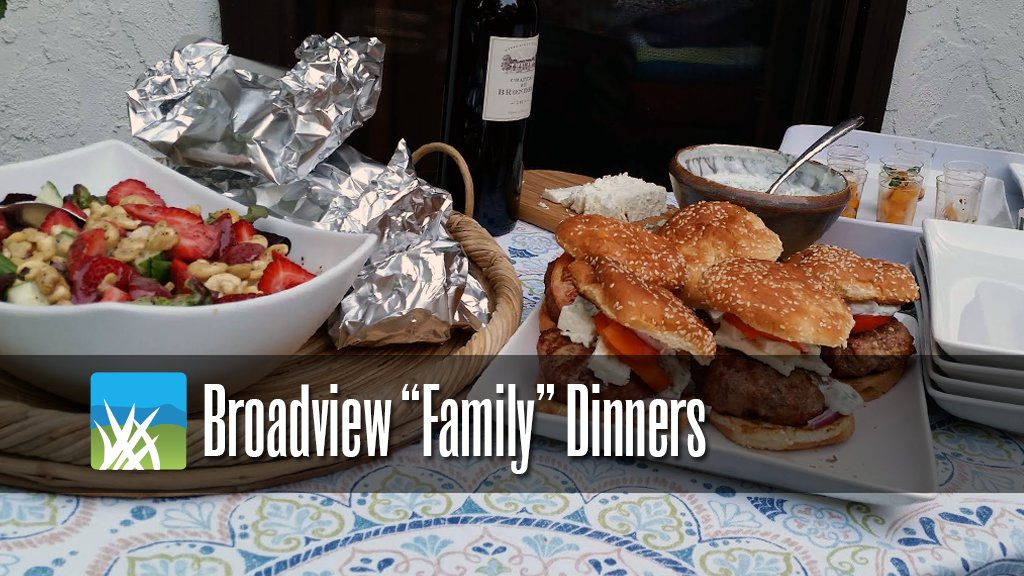 As a family-owned farm, we have had the opportunity to share many good meals together; celebrating family, food, and fellowship. On a weekly basis, the Roanoke contingent of our far-flung family meets to create recipes and spend some time together. We have decided to share some of these recipes and photos with you and we encourage you to share your own stories, recipes, and photos of Broadview meals with us that we can post to this blog for others to enjoy as well.
We have always defined family rather Broad-ly (wink) at the farm, to include friends and visitors who share our love of sustainably raised food that feeds the heart and mind as well as the tummy.
Greek Pork Burgers
(Makes 6-8 burgers)
2 pounds of ground pork
2 garlic cloves smashed
2 teaspoons of greek seasoning
Tzatziki Sauce
1 pint of plain greek yogurt
1 English cucumber, peeled and shredded
1/2 tbsp of salt (or more depending on your taste)
2 tsp of cracked black pepper
1 tbsp of white wine vinegar
3-4 cloves smashed garlic
1 tbsp of chopped fresh dill
Mix burger ingredients and grill 6-7 minutes per side based on your preference. Mix all ingredients for
tzatziki sauce. Assemble your burgers with fresh tomatoes, red onion, and tzatziki and enjoy!